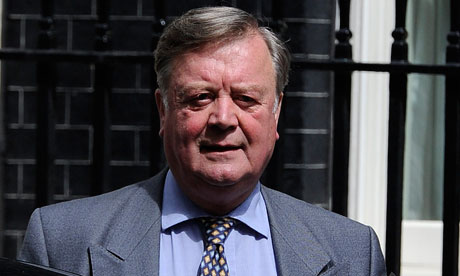 The coalition cabinet has agreed that a mandatory minimum six-month prison sentence for adults caught carrying a knife should be added to the sentencing and punishment bill but May, the home secretary, has reportedly been pressing for it to be extended to under-18s as well.
Clarke told the Commons home affairs committee that this claim was untrue. He said mandatory sentences in British law were an American innovation based on the assumption that judges could not be trusted to sentence on the basis of the circumstances in each case.
But, he added: "This is being tabled and that is the government's proposal. The idea that mandatory sentences for certain types of offence, should be extended to young offenders, to children, to juveniles is a bit of a leap for the British judicial system."
The justice secretary made clear that the only mandatory sentence he really approved of was the life sentence for murderers. The experience of every other mandatory sentence introduced into Britain, including "three strikes and you're out" rule that remained on the statute book, was that the judges found a way round to ensure the sentence fit the circumstances of the crime.
"This is a game that should not go on between parliament and the courts, and needs to be considered with great care," said Clarke.
He also confirmed during his Commons home affairs committee appearance that evening and weekend court sittings, which were used to deal with riot suspects, were unlikely to continue.
He said he recognised that evening courts would be better for witnesses and magistrates who had day jobs but warned it would be costly in terms of overtime for court staff. Clarke said he did not think there was sufficient business to justify magistrates sitting at night and at weekends.
The justice secretary did however spell out to MPs the government's priorities for reform of the European court of human rights at Strasbourg, when Britain takes over the chairmanship of the Council of Europe shortly.
Clarke added that he had told the council's secretary general that he wanted to see serious action taken to reduce the "huge arrears of trivial cases", and those that were never going to get heard. He believed there was widespread support to reform the Strasbourg court.